Home2Rome Endurance Cycle 2014
The Home2Rome Endurance Cycle 2014 was devised by Kevin Kelly from Carlow, yes another middle aged man in Lycra, who obviously enjoying a glass of wine too many came up with the crazy idea to get one person from every county to cycle with him from their homes to Rome.  Were there enough nutters to have one from every county join in well the answer is nearly!  With 22 cyclists and a full support team there are about 32 traveling on this adventure which we will blog from today June 18 until they reach the Eternal City on July 5th.
Why they are on the Donal Walsh #Livelife Page is another strange story.  On the day Donal died Kevin cycled into Santiago having completed the Camino.  Tom Foley one of the 3 Kerry cyclists who volunteered for the project came to us and said he would like to use the #Livelife logo to continue spreading Donal's conversation while en-route.  We agreed and so an incredible dream commenced.  "How do we do this?"  Well the idea of a scroll with Donal's writings on the Letter against Suicide and Climbing God's Mountain was brought up and then the writings were kindly translated by Archbishop Charles Brown, the Papal-nuncio to Ireland.  So two scrolls are being carried to Rome in relay by the cyclists and will be presented to the Vatican on arrival.
The Project is aimed to raise €250,000.00 for local cancer projects in the cyclists own area.  Each cyclist needed to raise €12,000 each and this would then go to the Cancer Project of their choice.  The #Livelife Foundation was delighted to be invited as part of this project in order to spread Donal's conversation to value life and to live it.  The Foundation will in no way be benefiting financially from the project however Elma will be joining the team for the last three days cycling some of the way from Pisa to Rome.
Wednesday 18th June 2014
Today the priests of St. John's Parish and Dominican Prior held a short ceremony of blessing for the participants and handed the Scroll over to Tom Foley to start his first leg of the journey.  After the ceremony there was a Haka of farewell performed by Danny Cournane and then the group were led by a lone Piper to Rathass.  Here 16 Baloons were released in memory of each year that Donal Walsh was on this earth.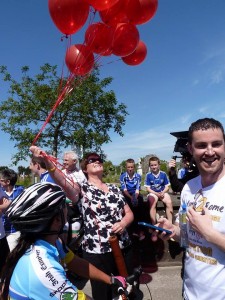 This evening the cyclists will arrive in Castleisland where the Scroll will rest until it is taken by Tony Galwey, Maurice Brosnan and Tom on the next leg to Cashel of the Kings.  Here it will be met by the Cathaoirleach of Tipperary County Council and be brought to the ancient Rock of Cashel which was the main see for the diocese of southern Ireland in the past and is one of the 4 Archdiocese in Ireland (Cashel & Emly).
Thursday 19th June 2014
Late again Tom and Maurice left Castleisland at 11am, they stopped at School Muire gon small, the children had made home to Rome posters. Lots of great signs for us to remember that the message we are carrying is bigger than what we are cycling. A young kid from Kerry silenced a Nation and asked for his conversation to be continued and that is the journey message……….we can raise funds for whatever but this kid did more for a nation than we can ever do so we will hopefully spread it across a continent.
Stopped for lunch in Newmarket, Tom and Maurice found it difficult to get going again after chatting to the locals.
I wonder did they know they travelled through Knocklong….Donal's ancestral home on Fionnbar's side. They were met in Tipperary town by the Tipperary wheelers cycle club and cycled with them to The Rock of Cashel. Tipperary is home to Clanwilliam RFC where three of Donal's uncles played their rugby.
Arrived at 7pm in Cashel of the Kings and were met by County Tipperary Cathaoirleach Michael Fitzgerald in a horse drawn carriage. Tom read an extract from Donals message and the group were then greeted by St Diarmuid O`Hurley Band, Cashel. Dinner and accommodation provided by Helen Shanahan
Distance cycled 144kms
Friday 20th June 2014
The 2 Kerry men left Cashel this morning late again, thank god they don`t speak french or it will take us a year.
After about 10km just out side Fethard Maurice got a puncture , panic set in with me because we had a tight schedule.  En route they picked up Steve McDonald and Tom Butler.  We had a great interview with KCLR in Kilkenny  where myself and Murt Brennan joined up with the lads.  We are slowly gathering to the full team.
We had a fine lunch in Paddys Bar on the way to Carlow where Maurice got another puncture, is there someone out there trying to tell him something?  Might be Maurice that you are looking for an excuse to sit in the support van for a few kilometers
.
We picked up Tom McDonald in Bagenalstown where the local priest blessed Donal`s Scroll.  Another break in the Lord Bagenal one of our sponsors, at this rate we will all have increased weight before boarding the boat so thank God they are not charging by weight.
We were met by a crowd of supporters in Carlow town who after a bit of organization they lined the streets to the cathedral and passed Donal`s message from one person to another.  Arriving at the Cathedral a large crowd had gathered where the Bishop Denis Nulty blessed the scroll that Kevin Kelly then read a part from.  A special guest joined us at our ceremony The Carlow Rose Miriam Smyth who also joined us at Eist for a night of serious fun, food & craic.
After making it to Carlow, day 4 started once again at the Cathedral where we were led out by a fantastic piper's tunes to send us on our way again. Many of the Mount Leinster cycling club and other cyclists swelled the group on the route to Enniscorthy and the Hope Center. It amazes me the way that people from all provinces have joined in this idea on a mission to carry a scroll with the message from a 16yr old guy from the outer reaches of Europe to the center of the Christian world.  Our trip is to continue the current mesage of hope that Donal Walsh renewed in his conversation to young people last year and, damn I'm proud to be part of that forgetting the nearly 1/4 million €uro these guys are raising for their own home cancer projects.
Another piper met the group when we arrived and a great selection of food, especially the scones and cream were gladly savored by all the group & served by the hard working ladies in the Hope center Enniscorty.  This food thing in Ireland is ok but these guys are in for a fright when we hit mainland Europe……they will not know about what this trip is about or will they?
There were a couple of guys who thought there might be an easier way for the trip but when they tried all they got was an offer for Killanick….."It is only up the road about 2k lads but I think yer buts need more time in the saddle…..would ye like to hire a couple of Donkeys lads 'cos I think ye are a pair of asses?"