Crumlin Medical Research Foundation Medal 2012
Awarded to Donal for his fundraising efforts for the hospital.  Up to his death he had raised, or had raised in his name, €65,000.00.  Since his passing this figure has raised to over €150,000.00 which was firstly to provide teenage appropriate facilities in St. John's Cancer Ward and thereafter for use by the hospital as it needs.
Rehab Young Person of the Year 2013
Following his winning the Local Hero Award and the subsequent national media interviews and publications by Donal his anti-suicide message was acclaimed as "Probably the most significant intervention in this area ever" by Terence Casey, South Kerry Coroner.  "Since his initial interview in March up to the end of August I had no reported case of suicide in my court where I would normally have two per month!"  Donal received National recognition through the Rehab People of the Year awards.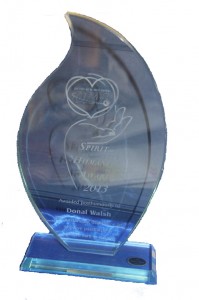 ORM (OutreachMoldova) Spirit of Humanity Award 2013
In recognition of his simple message to his teenage peers which was listened to by a Nation and spread Internationally Donal was awarded the ORM Spirit of Humanity award at a ceremony in Trinity College.
National Newspapers of Ireland For "Outstanding Contribution to the National Debate" 2013 Special Award
Donal was awarded this for his publications in the Sunday Independent.  When presenting the award Brendan O'Connor commented that we need no longer ask "What might have been, had Donal survived?"  but rather "Let us look  at what he has achieved in his short time with us!"