Three links to celebrate Donal's 21st Birthday on Thursday June 15 2017 @Donal_walsh_ #Livelife Happy birthday to our beautiful son! @donallivelife
Watch Donal Walsh – My Story: Reality Bites on RTÉ Player at http://www.rte.ie/player/show/10358911
Donals full interview on The Brendan O Connor Show https://m.youtube.com/watch?v=Q076my5KCOI
Donals interview for the Independent

The Spa National School Donal Walsh 6km Walk/Run
Takes place Sunday 11th June @ 11:30, Registration from 10am
On site market
On site entertainment
Guido Fanzini Show
Refreshments
Great day out for all the family, click here for more information
Donal Walsh 4th Anniversary Mass:
Thank You to all the 800 students who came from all over the country to Tralee on Friday 12th May & helped us celebrate @DonalLiveLife 4th Anniversary.
Click here for more photos of the day.
Events coming up for the Foundation:
Donal's 4th anniversary & youth mass will be celebrated on Friday the 12th May at 12pm in St. John's Church, Castle St. Tralee. All welcome! #livelife
Should you require any further information please contact donalwalshlivelife@gmail.com or call Jenny on 0877143016
RECENT EVENTS:
 LEE STRAND HEALTH & WELLBEING EVENING
The Brandon Hotel, Tralee.
Thursday 6th April
Click here for tickets
Tomás Mac an t-Saoir cycled over 3000 miles accross Americas "Southern Tier" in aid of The Donal Walsh Livelife Foundation.
Check out Tomás's exciting adventure on twitter @SearsToms
To show your support click HERE to visit Tomás's Fundraising page.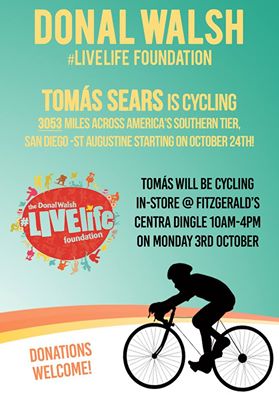 Slide show of previous events
A host of livelife shirts pedalling past the Walsh's home in 2013

Livelife Film Competition

Launch of the Livelife Film Competition

Memorial Bench @ CBS

ITT Students Create Bench In Memory Of Donal Walsh At CBS

Climb Donal's Mountain

On the last Sunday of every September the Foundation hold a climb at Mt. Brandon and everybody is welcome.

Knight's Festival Bungee Jump

The Westfest in New Castlewest held a bungee jump for the foundation and three of Donal's friends took part.