CLIMB DONALS MOUNTAIN
Join Donal's Mom & Friends in climbing his Mountain on Sunday 24th September 2017 – Following the pilgrim station route from An Bothar side
Registration from 9:ooam – Climb Commences 11:00am
Light refreshments available afterwards.                                                                                                                                                             Registration Free contact 0877143016/0860773516 for sponsorship card.
2017 Evening Echo Womens' Mini Marathon
If climbing mountains isnt your cup of tea why not Run for Donal in the 2017 Evening Echo Womens' Mini Marathon.
Click here to register.
Three links to celebrate Donal's 21st Birthday on Thursday June 15 2017 @Donal_walsh_ #Livelife Happy birthday to our beautiful son! @donallivelife
Watch Donal Walsh – My Story: Reality Bites on RTÉ Player at http://www.rte.ie/player/show/10358911
Donals full interview on The Brendan O Connor Show https://m.youtube.com/watch?v=Q076my5KCOI
Donals interview for the Independent
The Spa National School Donal Walsh 6km Walk/Run
Takes place Sunday 11th June @ 11:30, Registration from 10am
On site market
On site entertainment
Guido Fanzini Show
Refreshments
Great day out for all the family, click here for more information
Donal Walsh 4th Anniversary Mass:
Thank You to all the 800 students who came from all over the country to Tralee on Friday 12th May & helped us celebrate @DonalLiveLife 4th Anniversary.
Click here for more photos of the day.
Events coming up for the Foundation:
Donal's 4th anniversary & youth mass will be celebrated on Friday the 12th May at 12pm in St. John's Church, Castle St. Tralee. All welcome! #livelife
Should you require any further information please contact donalwalshlivelife@gmail.com or call Jenny on 0877143016
RECENT EVENTS:
 LEE STRAND HEALTH & WELLBEING EVENING
The Brandon Hotel, Tralee.
Thursday 6th April
Click here for tickets
Tomás Mac an t-Saoir cycled over 3000 miles accross Americas "Southern Tier" in aid of The Donal Walsh Livelife Foundation.
Check out Tomás's exciting adventure on twitter @SearsToms
To show your support click HERE to visit Tomás's Fundraising page.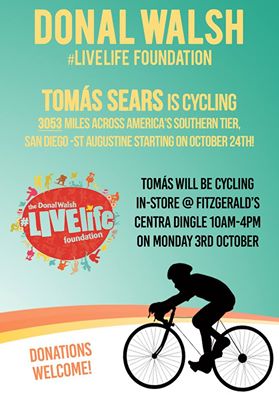 Slide show of previous events